The Saga of Jaya
Status:
Funding is sought for full scale production. Please contact us for a pitch pack! AYE Ltd. as producer has put together a team of professionals in Los Angeles, Manila and Hong Kong who will complete the project.
Two pilot episodes are complete, to establish and test the production system, audience test and market. Similarly, a music video was released in the Philippines. A third pilot episode is currently in production. Several more episodes are ready for production. Musical effects are provided from an already specially recorded library of traditional South East Asian instruments.
The Look: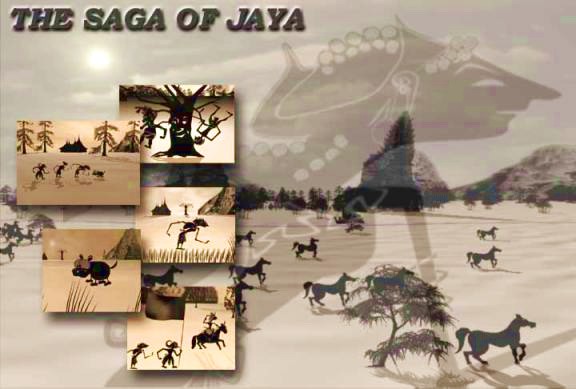 And here is a Poster (184 KB)
Synopsis
Jaya is a young girl who lives somewhere in Southeast Asia. While her father is away, fighting for the King, two wicked brothers, Flink and Arg, scheme to throw Jaya and her mother out of their hut. Jaya is determined to find and tell her father. Every day during a drought, she had given water to a tree. The tree reveals magical powers and promises to aid her. She sets off on a series of adventures aided by her trusty dog Min-Min (who is thinks he is a cat). Gathering friends during her travels, Jaya helps others and is helped by the tree's magic and her new friends. Jaya's story is one of kindness, thoughtfulness and persistence, told with a comedic and sentimental touch, using puns and inventiveness.
Target audience:
Children 4-10 year old - (Program has tested especially well with girls.)
Target Territories
Global (approximately 80 territories for animated material), with specific emphasis on UK, Canada, Australia, New Zealand and major European territories.
Format:
20 x five minutes episodes, narrated series using digital shadow puppet animation. Wayang Kulit-style puppets have been created in 3D animation software.
A careful creative design and an innovative technical method of production reduces dramatically reduces the production man-hours required. With significantly lower costs than normal but selling at existing broadcast rates, the project is profitable on medium-term broadcast license fees alone.